Want to know what I did to manage my little monsters?

Hi... I'm Meera. Being a working woman and a mom of two naughty lads, life has almost become a 24*7 nonstop Dhamaka for me. The worst part is getting home from my tiring office hours to the horror full situation of handling two little monsters at home.
I know this isn't a rare case of mismanagement but the reality that puzzles many of the nuclear families. In between all these messes, where is the time to look after their studies? A big question mark and what on earth can be done to make them sit, do their homework, get done with their meals and be calm for a couple of hours. I kept trying by bringing them new games, getting them varied color pencils, toys, new books and what not. Nothing turned up for a help.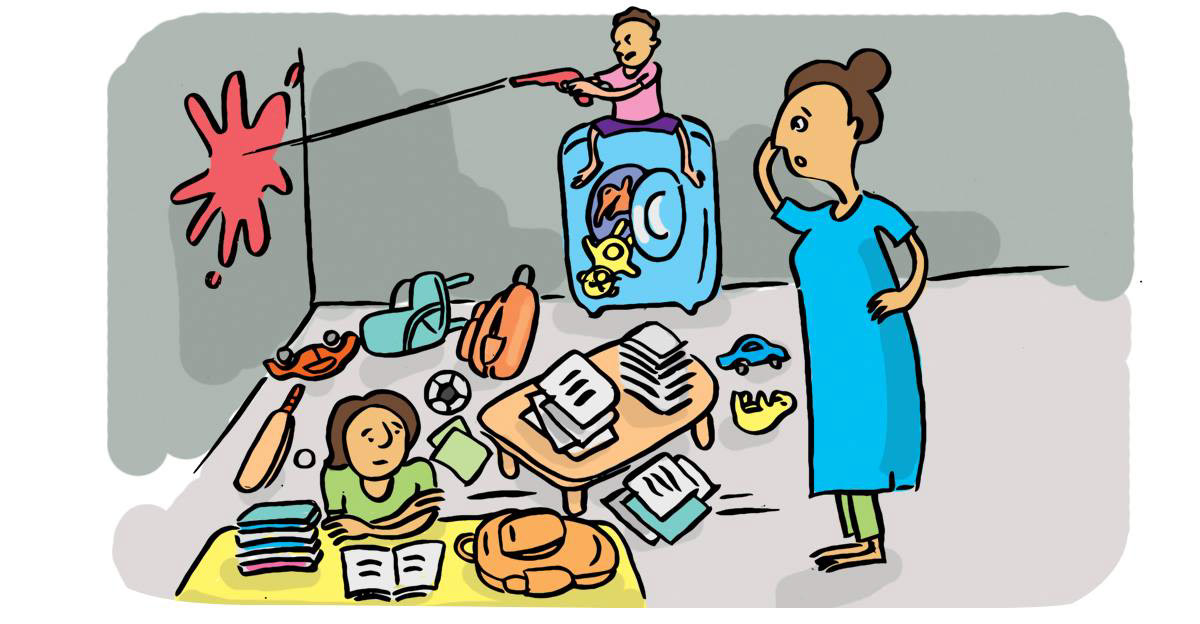 In a congested city life, there isn't any option to find a massive underground cellar to keep all the junks my little heroes generate every now and then. All my wardrobes, shelves and even kitchen work area is stuffed with their tiny things. Sometimes, it's like these things have got legs and wings! You know what... they keep moving from one place to another. Sometimes in the refrigerator or worst in the washing machine! Can you believe, how my superheroes deal with the shortage of space! (sigh)

One day, with my usual routine, I was stuck in the office amidst of a few horrendous files and the strain was so much that I thought of taking a break. I set off with a chit chat with Sanjay, my colleague who just joined after a long leave. He is a young father who is fortunately or unfortunately blessed with twin boys. I was rather shocked to find the reason behind his absence in office for a week.
His younger son was admitted in hospital after falling down from the top of a cupboard after reaching out for some books. The very thought of my kids jumping and climbing over everything, like monkeys and making my home a jungle, shook me literally. After the hilarious illustration of the series of events, he told me something his son's teacher advised. Without a second thought I started frisking over a particular Facebook page in my mobile and stumbled upon a magnificent multi-purpose piece of furniture from Jacsons.
Actually, my mind was bursting with glee. Yes, I see a positive and consistent solution for my prevailing problem. The table come drawer is compact, stylish and easily transformable to a study table or a teapoy, which will indeed be a fun factor for my trouble makers. It can be kept in my living room open space and make my kids sit there and study so that I can keep an eye on them, even while getting with my household works.
After office, without much wait, I made my way to Jacsons furniture showroom to find the same pieces I saw on their Facebook page today. I was so happy to touch and reassure the quality that they displayed through their website. I got free home delivery too and when my husband came back home this is what he saw.